What is "KARUSHIOH"?
The "KARUSHIOH"Project is a broad initiative to promote dietary improvements in order to prevent cerebral and cardiovascular disease.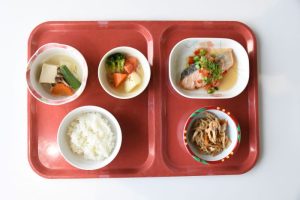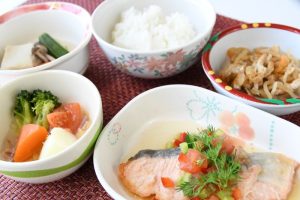 ▲ The origin of "KARUSHIOH". NCVC hospital food
The NCVC is working to develop and discover intellectual asset as a way to give something back society in the form of research findings and other expertise. One result of that effort is the "KARUSHIOH"diet, a new approach to reducing salt in order to highlight flavor.
Pamphlet
Reflecting its belief that diet is part of the treatment process, the NCVC offers patients delicious meals that contain less than 2 grams of dietary salt per serving. "KARUSHIOH" recipes are distinguished by the way they use soup stock and by their colorful combinations of ingredients. Specifically, they're prepared using Happo soup stock that is seasoned with dried bonito shavings, soy sauce, salt, and sugar. In addition to creating more consistent flavors, this soup stock serves to highlight the flavor of individual ingredients. We've embarked on a number of initiatives in response to requests from patients who have expressed a desire to enjoy the NCVC's meals even after they've been discharged, including selling low-salt boxed lunches, publishing a collection of low-salt recipes, and holding cooking classes. We also worked with overseas partners to produce a Russian version of the recipe collection with changes to accommodate Russian culture.
"KARUSHIOH"Certification Mark
Our "KARUSHIOH"Certification Program is geared to make it easier for consumers to choose healthy foods by testing commercially available low-salt foods submitted by manufacturers and granting those that meet certain criteria the right to display a certification mark. We're working with corporate partners to raise awareness through our "KARUSHIOH"Certification system.
"KARUSHIOH"is a registered trademark of the National Cerebral and Cardiovascular Center.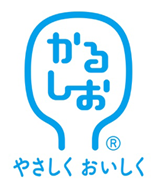 Promotion of "KARUSHIOH"Certification system
"KARUSHOH"- Certified Products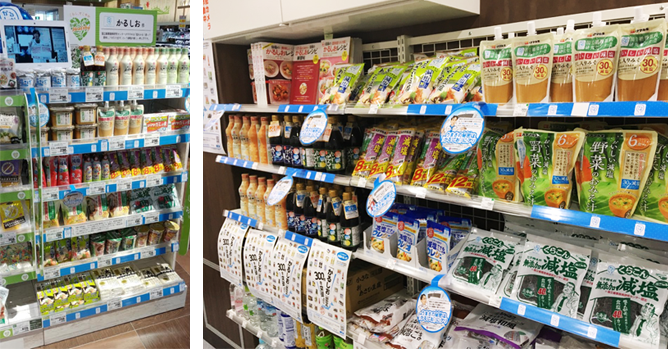 A corner for
"KARUSHOH"- Certified Products
is set up at a supermarket and convenience store.
We're looking for delicious, low-salt meals through the S-1 Grand Prix (S-1g).
We host the S-1g, a recipe contest that solicits delicious, low-salt meal ideas. Winning recipes are featured in campaigns to raise awareness of the need to lower salt intake in various regions.
The contest's name reflects the ideal of reducing salt content in each meal to 1 gram.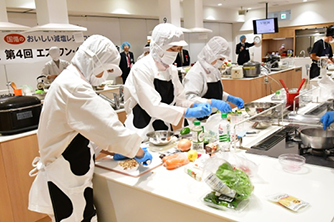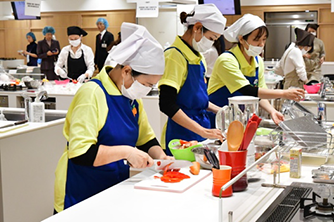 "KARUSHIOH"Recipe book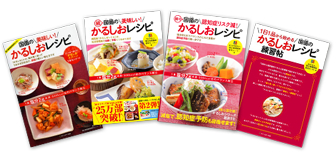 ▲ Recipe book
Won 1st ranking in Amazon's weekly sales in Japan!
▲ "KARUSHIOH"Cook booklet Russian ver.
You can download the booklet for free.
最終更新日 2020年03月12日