Division of Heart Failure
To want toTrainee
Join us in learning about heart failure.
We are recruiting young physicians who want to receive specialist training in heart failure
Cardiologists will inevitably treat heart failure because the number of patients with heart failure has rapidly been increasing with the recent aging of the population. Recently, treatments for heart failure have progressed remarkably; now there are various treatment options including medication and device-based therapies.
In the Division of Heart Failure, you can systematically learn the management of heart failure from mild to severe stage throughout acute to chronic phase. Inotropic agents, and timing for introduction of mechanical assistance will be taught in an acute heart failure, and medical treatment, patient education, rehabilitation, and device-based therapies will be taught for chronic heart failure.
For those who are interested in structural heart disease (SHD)
The Division of Heart Failure plays a major role in the management of SHDs including valvular disease and cardiomyopathy. We perform a substantial number of TAVI procedures in Japan (300 cases in total as of January 2018). You can learn about a wide range of heart failure treatments from medication to device-based therapies, including heart failure treatment using the MitraClip®, which has been covered by public insurance since April 2018. Depending on your skill level, you can actively participate in percutaneous transluminal septal myocardial ablation (PTSMA) procedures for hypertrophic obstructive cardiomyopathy as well as catheter-based treatments for valvular disease and cardiomyopathy such as percutaneous transseptal mitral commissurotomy (PTMC) for mitral stenosis.
We have the largest number of patients with dilated cardiomyopathy in Japan and a wide range of experiences in the management of orphan diseases
You can learn about the various stages of heart failure because we have the largest number of patients with dilated cardiomyopathy in Japan, from mild cases to severe cases for which heart transplantation is indicated. Given our case volume, we have published many case studies and original papers. While cardiologists at other facilities rarely see patients with orphan heart diseases, you can learn about them at NCVC. In the Division of Heart Failure, you can take part in the diagnosis and treatment of many cases of very rare diseases in a short time, including accumulation diseases such as cardiac amyloidosis and Fabry's disease in addition to inflammatory diseases such as cardiac sarcoidosis.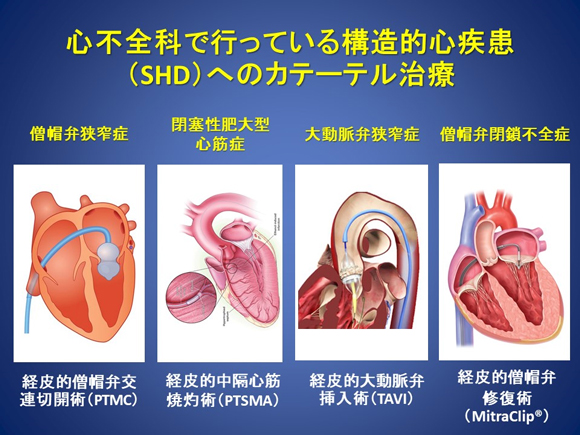 For those who want to systematically learn echocardiography
NCVC performs approximately 18,000 transthoracic echocardiography examinations and approximately 1,300 transesophageal echocardiography examinations every year. In particular, transesophageal echocardiography is frequently performed not only to evaluate for thrombosis before ablation procedures but also to evaluate valvular disease. As SHD treatment has recently drawn attention, echocardiography has become an essential examination in various steps from preoperative screening to intraoperative navigation. In addition to 3-dimensional echocardiography, you can also experience new technologies such as strain analysis and use them to conduct studies if you desire. We have the latest models of commercially available echocardiographic systems from almost all manufacturers (13 units from 5 manufacturers in the echocardiography laboratory alone). Therefore, you can learn the characteristics of various systems and models and select a model suitable for your study. Why don't you develop experience at NCVC, which deals with a large number of patients with various diseases and become an echocardiography specialist?
Schedule of the training course
The training course is typically completed in 2 years, but you can consult us for completion in a shorter period. In principle, physicians who have gone through all of general cardiology training can apply for this training course. Please contact us if you are interested in.
Weekly schedule
Monday
Tuesday
Wednesday
Thursday
Friday
AM
Heart failure conference
Case study conference (2nd and 4th Tuesdays)
Heart failure conference
Heart failure conference
PM
Conference on new patients and discharge,
Division Head's ward rounds
Internal medicine/surgery conference
Evening
Research conference
Valvular disease conference
Internal medicine meeting
→ Curriculum of the Department of Cardiovascular Medicine (Division of Heart Failure)
Contact
Chisato Izumi, Head, Division of Heart Failure, Department of Cardiovascular Medicine
TEL: 06-6833-5012 (Main number for NCVC. Please ask the operator to forward the call to Dr. Chisato Izumi.)
Messages from senior physicians
Nobuyasu Ito
Worked as a specialist-in-training from 2016 to 2018 in the Department of Cardiovascular Medicine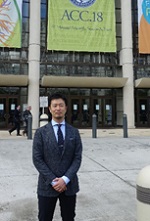 I worked in NCVC's Division of Heart Failure for 2 years as a specialist-in-training 6 years after graduating from medical school. Before joining NCVC, I completed senior residency training at a city hospital. The Division of Heart Failure treats patients with severe heart failure who have underlying diseases such as valvular disease, cardiomyopathy, infective endocarditis, and heart tumor. I participated in NCVC's specialist training because I was intensely interested in interventional therapies for coronary arteries, peripheral arteries, and SHDs. At NCVC, I managed inpatients with these diseases in the ward and engaged in cardiac catheterization studies, echocardiography examinations, and transesophageal echocardiography examinations. In addition, I actively participated in surgeries including TAVI and transcatheter closure of paravalvular leaks as a member of the heart team. With the recent aging of the population in Japan, the number of patients who develop heart failure due to various underlying diseases is increasing. Treatment options for heart failure, particularly non-drug treatment options, have become more diversified than ever. Therefore, we need to select treatment based on discussions among the team as well as multimodality evaluation of diseases such as heart failure, valvular disease, and cardiomyopathy. I can say that the training in the Division of Heart Failure is the best opportunity to obtain the perspectives and skills necessary for cardiologists. Each specialist-in-training conducts clinical research under the supervision of advising doctors and publishes his or her findings. For example, the research I conducted at NCVC included an analysis of low-molecular compounds in the expired breath of patients with heart failure and retrospective analysis of data from patients who underwent TAVI. I presented the results of these studies at academic conferences of the Japanese Circulation Society and American College of Cardiology. I published papers on these studies in medical journals. Surrounded by highly active and motivated fellow residents, I had a very fruitful time as a cardiologist during training under the instruction of top-class doctors in Japan with plenty of experience and knowledge.
Tatsuro Hitsumoto
Worked as a specialist-in-training from 2016 to 2018 in the Department of Cardiovascular Medicine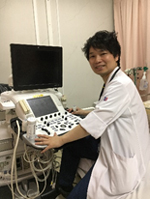 I completed junior residency training at a university hospital and senior residency training in cardiology at a city hospital. After 6 years of experience as a resident physician, I participated in the specialist training at NCVC and completed it in 2 years. Currently, I engage in basic research at NCVC's Research Institute. During the 2-year training program as a specialist-in-training, I encountered a wide range of patients with various diseases including heart failure, valvular disease, and rare cardiomyopathies in various stages, from mild to severe. At daily conferences, I discussed treatment courses with senior doctors and other residents, quickly provided treatment to patients based on those discussions, and reviewed their outcomes with senior doctors. Repeating this cycle, I updated my knowledge and skills necessary for clinical decision-making and learned appropriate, evidence-based medical practices. Because NCVC provides opportunities to perform catheter-based treatments for heart diseases such as valvular disease (e.g., TAVI, MitraClip®, and PTMC) and cardiomyopathy (e.g., PTSMA for hypertrophic obstructive cardiomyopathy), clinical studies, and first-in-Japan treatment approaches, residents gain in-depth knowledge of cardiology depending on their motivation and competence. During training, I engaged in both clinical practice and research. As part of my research activities, I studied cardiac output in patients with reduced cardiac function based on large amounts of accumulated data obtained from bilateral cardiac catheterization studies performed at NCVC. I reported the results of this study at a meeting of the Japanese Circulation Society. At present, I am writing a paper on this study.
I was once worried whether I could keep up with the training, but I found that I was able to overcome difficulties and learn a lot with support from fellow colleagues, senior doctors, and other healthcare professionals. I believe that being surrounded by highly motivated doctors from all over the country during training at NCVC will bring you fruitful days and fulfill your expectations.
last updated : 2021/10/01