Division of Heart Failure
Overview
Overview of the Division
Heart failure is a condition in which dysfunction of the heart leads to symptoms such as palpitations, shortness of breath, malaise, and swollen legs. Without treatment, patients will be unable to lie down because of breathing difficulties. Although the severity and rate of progression of heart failure vary across individuals, it generally becomes more severe and refractory over time. Some patients experience sudden onset or acute deterioration of heart failure that may lead to death due to lack of oxygen or other complications such as arrhythmia.
To prevent exacerbation of heart failure, appropriate treatment in the early phase of the disease is important. The principal causes of heart failure include valvular disease, hypertension, myocardial infarction, cardiomyopathy, and arrhythmia. The Division of Heart Failure provides comprehensive medical care for heart failure, including advanced medical care. Many patients have been hospitalized for evaluation or treatment (1,150 patients in 2017).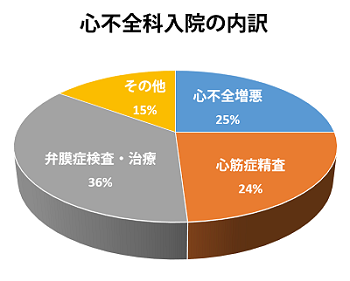 We propose optimal drug and non-drug therapies as well as the best timing of surgery for valvular disease based on high-quality evaluations and the latest information.
For cardiomyopathy, particularly dilated cardiomyopathy, comprehensive treatment is provided in cooperation with other divisions. Treatment is based on our accumulated experience. It can include oral medication, drip infusion, implantable cardioverter-defibrillator (ICD) placement, cardiac resynchronization therapy (CRT), assisted circulation (intra-aortic balloon pumping, left ventricular assist system), and bridging to heart transplantation.
We perform many echocardiographic examinations each year. We are one of the most experienced institutions in Japan for this examination.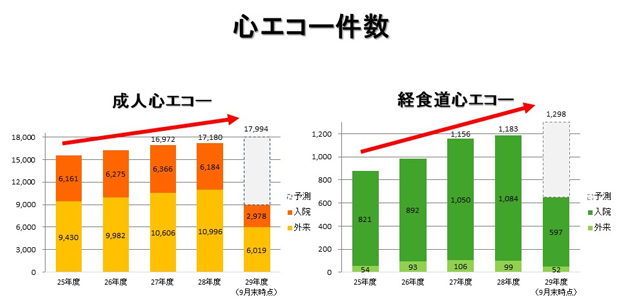 In addition, we actively provide minimally invasive cardiac treatment and catheter-based treatment for structural heart disease (SHD).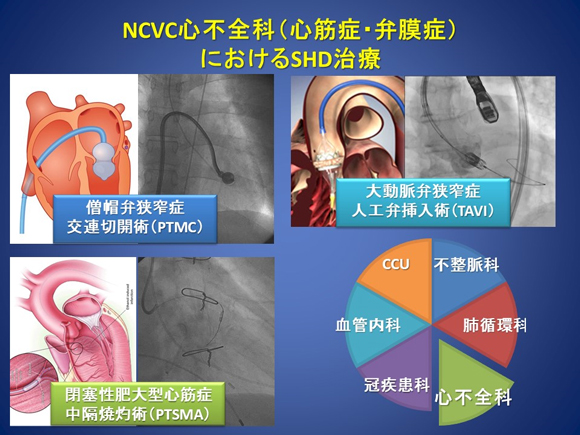 The MitraClip®, which is intended for use in catheter-based treatment of mitral regurgitation, has been covered by public insurance since April 2018. NCVC is recognized as one of a small number of training facilities for procedures using the MitraClip® in Japan because it has been participating in its clinical study and has the largest number of study subjects in Japan.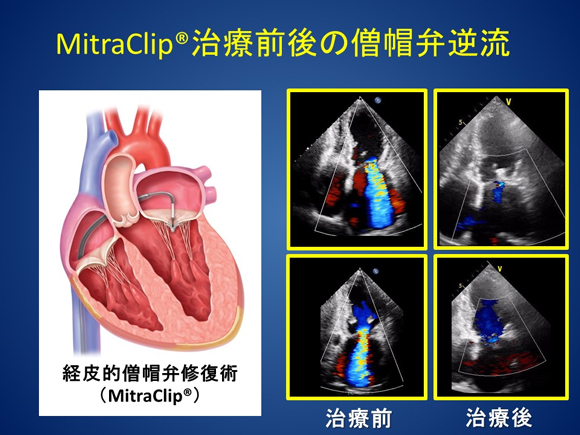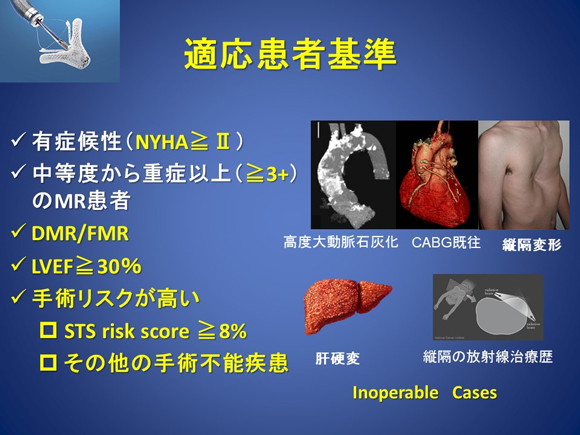 Certifications
Training facility for cardiologists certified by the Japanese Circulation Society
Training facility for echocardiographers certified by the Japan Society of Ultrasonics in Medicine
last updated : 2021/10/01