Division of Heart Failure
To medicalstaff
Overview of the Division
Heart failure results from a variety of underlying diseases such as ischemic heart disease, valvular disease, cardiomyopathy, arrhythmia, congenital heart disease, hypertension, thyroid disease, and anemia. The Division of Heart Failure provides medical care for and conducts research on a wide range of cardiac diseases including heart failure, valvular disease, and cardiomyopathy. For patients with suspected heart failure, valvular disease, or cardiomyopathy, we use echocardiography, cardiac magnetic resonance imaging (MRI), nuclear medicine studies, exercise tolerance testing, catheterization, myocardial biopsy, and genetic testing to accurately diagnose diseases and select the optimal treatment approach for each patient. We provide careful explanations and perform follow-up for patients. We are committed not only to daily practice but also to clinical studies to develop advanced medical care for heart failure, valvular disease, and cardiomyopathy.
Primary diseases treated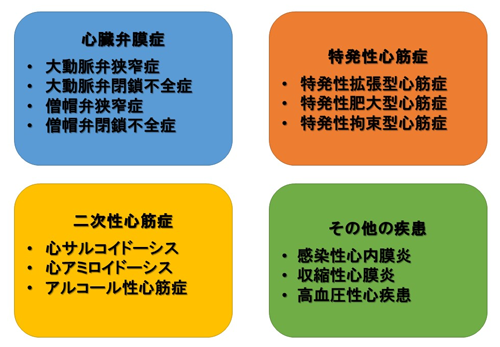 Referral of patients and consultations
Valvular heart disease
We are actively providing catheter-based therapies for valvular disease. Catheter-based therapies are indicated for patients with mitral regurgitation, aortic stenosis, and mitral stenosis. Since April 2018, public insurance covers the MitraClip® for use in catheter-based therapy for mitral regurgitation. NCVC Hospital is recognized as one of a few training facilities for MitraClip® procedures in Japan because it has been participating in its clinical study and has the largest number of study subjects in Japan. Some patients with mitral regurgitation who are high-risk candidates for open chest surgery as well as elderly patients with mitral regurgitation may receive this treatment. Please visit our Valvular Disease Clinic for consultation.
Cardiomyopathy and other diseases
We can provide patients with comprehensive medical care including heart transplantation. We welcome patient referrals. We also provide catheter-based treatment (alcohol ablation [PTSMA]) for hypertrophic obstructive cardiomyopathy. Please contact the General Heart Failure Clinic for consultation on any concerns related to heart failure, including surgery.
Clinical Trials and Studies
The Division of Heart Failure is participating in the following clinical studies:
Interventional studies / clinical trials
Investigator-initiated clinical study: The effects of ARB selection (azilsartan vs. candesartan) on diastolic function in patients suffering from heart failure with preserved ejection fraction (J-TASTE trial)]
Teneligliptin on the Progressive Left Ventricular Diastolic Dysfunction With Type 2 Diabetes Mellitus Study (TOPLEVEL) on a DPP-4 inhibitor
Observational studies
AMED: Studies on the development of the Initiative on Rare and Undiagnosed Diseases in Adults (IRUD-A), TAVR OPtimization baseD on the cost-Effectiveness AnaLysis (TOPDEAL study)
Health and Labour Sciences Research Grant: The acquired von Willebrand syndrome coexisting with cardiovascular diseases Study
Grant-in-Aid for Scientific Research: Study on a novel compensatory mechanism by increased brain natriuretic peptide (BNP) precursor processing in acute heart failure and its clinical application (Study on BNP precursors in acute heart failure)
In addition, we are participating in many other multi-center trials.
last updated : 2021/10/01