研究職
分子生物学部
分子生物学部 王 琦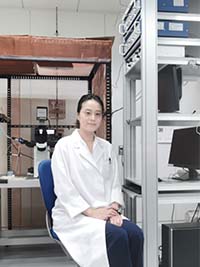 July 2019~ Research Fellow
 I have started my research as a research fellow in the Department of Bioscience and Genetics since July 2019, when the new research building just opened. The laboratories, offices and other working place are spacious, clean and convenient.
 My research program focuses on analyzing the functional changes of ion channels affected by gene mutations, which were identified in patients with inherited arrhythmia syndromes. After I took my Ph.D., I worked in a medical college in China, where I mainly taught physiology to the students. However, I still had much passion for my unfinished project and wanted to learn more advanced techniques to expand my research idea. Therefore, I applied for a research fellow and have started my life as a postdoc researcher in this department.
 Our department is focusing on the exploration of hereditary cardiovascular diseases, including inherited cardiac arrhythmias and idiopathic cardiomyopathy. We start from the genetic analysis, then analyze the gene expression and cardiac ion channel function on cells and genome-edited animals through RT-qPCR, patch-clamp technique, etc. Our research targets for the development of appropriate and optimized therapies, leading to the realization of precision medicine.
 I very much appreciate that I can receive a lot of good suggestions and kind help from the researchers and assistants not only from our department but also others. Because the National Cerebral and Cardiovascular Center recruited many experienced senior researchers who are active in the different cardiovascular fields. It is very well-equipped and offers postdoctoral researchers a good starting point for launching their careers.
 Moreover, I lived in the newly built staff apartment which is only 5 minutes' walk distance from the research building. So I don't need to worry if the experiments are completed late. The daily living is also convenient because the supermarket and JR station are very close. Therefore, if you are searching for a postdoc starting institution, National Cerebral and Cardiovascular Center can be the best candidate.
最終更新日:2021年10月01日