Inpatient Care
For Patients Requiring Admission to NCVC
Hospitalization Procedures
Reservation

Receive duplicate copies of the hospitalization reservation card from your outpatient physician and take them to the Admissions Center on the first floor to start the application procedure.
*Be sure to present both copies to the counter.

Notification of admission schedule

When your admission schedule is settled, we will notify you by phone.
Take note of the date, time, and ward of admission.

On the day of admission

Present at the Admissions Center (1st floor) at the appointed time.
Bring the following with you for admission:

Hospital registration card. During your stay, the ward staff will safekeep it for you.
In addition to your health insurance card, present other insurance coverage certificates, if relevant.
Certificate of Eligibility for Ceiling-Amount Application. If you have been issued this certificate, present it to the Admissions Center, and your hospitalization fees will be limited by the ceilings corresponding to your last year's income.
Hospitalization Application Form. If an individual other than the patient fills out the form, the subscribing person must affix his or her stamp on the form.
Voluntary Guardianship and Payment Guarantee Form. This form must bear the stamps of the person responsible for the payment and his or her co-signer.
Stamp (unregistered seals are allowed)
• Daily-use items:
Pajamas (2 to 3 sets), underwear (3 to 5 sets)
Toiletries, chopsticks, spoons, cups, tissue boxes
Comfortable shoes or slippers
Instructions for Inpatients
Always Wear Your Wrist Band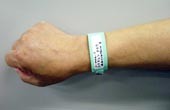 In order to verify patient identity, we ask all inpatients to wear their wrist bands. We display patients' names above their beds, on the back cover of their medical charts, and on the nurse call board located in the staff room. We may ask patients to state their names for the purpose of identification. These formalities may possibly cause inconvenience. We ask for your understanding and cooperation.
Avoid Contagion
Bottles of disinfectant solution are placed at the entrance of each patient room for your use. Spray your hands with the solution before entering your room. Encourage your visitors to use the disinfectant.
Ward Policies
When you intend to leave the ward during your hospital stay, please inform the nurse.
The ward is completely smoke-free.
Drinking alcoholic beverages is strictly prohibited during your stay.
Refrain from actions and utterances that are disrespectful, threatening, or intimidating to other patients.
Use your cell phone only in the designated locations.
Religious, political, and commercial activities are forbidden.
We decline any gifts or gratuities for the hospital staff.
We may seek compensation or compulsory discharge, if a patient:
Damages any part of the building, medical equipment, or other property of NCVC.
Engages in physical, mental, verbal, or other forms of abuse to other patients or visitors.
Inflicts physical, mental, verbal, or other forms of abuse on the staff or other individuals (e.g., external contractors).
Hospital Room and Ward Equipment
TV and Refrigerator:
To use the TV set and the refrigerator located in two-person, four-person, or single-person rooms (designated for patients with serious conditions), purchase a TV card. Use earphones when watching the TV. TV cards are available for purchase at the vending machines located in the elevator lobby of each floor. The credits remaining on your card can be reimbursed by the adjustment machine located in the first floor lobby.
Safe Deposit Box:
In the bedside cabinet housing the TV set, you will find a safe deposit box for your exclusive use.
*We ask you not to bring in an inappropriate amount of cash or valuables to avoid possible loss and theft.
Electric Bed:
Electric beds with adjustable head, foot, and bed height are available on request.
Coin-Operated Laundry Equipment:
Coin-operated commercial washers and dryers are available in the central area of the ward. These machines require ¥100 per cycle.
Visiting
Visitors must comply with hospital policies for ensuring the safety and comfort of other patients.
Chaperone
As a general rule, the attendance of a chaperone is not permitted outside of regular visiting hours.
However, the attendance of a chaperone may be extended if the physician deems it necessary for medical reasons.
Transfer to Other Institutions
NCVC is a regional hub focusing on the treatment of patients with cerebral and cardiovascular disease in the acute phase. Therefore, if you have reached a stable condition after intensive treatment, or if your treatment status so requires, we may ask you to move to a more suitable medical, nursing, or rehabilitation facility. We ask for your understanding and cooperation in advance.
Payment of Hospitalization Fees
Bills for hospitalization expenses will be delivered to you around the 10th day of the month, representing the expenses from the previous month. Make payments by the due date at Desk No. 6 (1st floor) or by using the automated adjustment machine located on the first floor lobby.
No later than the evening before your discharge, we will deliver the Medical Expense Estimate and Payment Confirmation Sheet to you. After checking this sheet, go to Desk No. 6 (first floor) on the day of your discharge to pay the remaining balance. Visit the Off-Hours Reception Desk if you leave the hospital outside of the regular weekday business hours or on a holiday. Please note that the automated adjustment machine is not available for making discharge payments. When you complete your payment, you will be given a receipt bearing the receipt or confirmation stamp. Bring it to the ward, and present it to the nurse. The nurse will return your hospital registration card to you.
• You may make payments via wire transfer. Please note that wire transfer requires additional remittance fees.
Special Private Room
If you wish to stay in a special private room, indicate your choice to the outpatient physician or the Admissions Office staff when you arrive for admission.

Lounge suit, telephone, bathtub (available in Type A rooms only), toilet, TV, and refrigerator

[Special Room A]

¥32,000 (excluding taxes) per day

located on the 6th, 7th, and 8th floors of the East Ward, and on the 7th floor of the West Ward.

[Special Room B]

¥22,000 (excluding taxes) per day

located on the 6th to 10th floors of the East and West Wards (excluding the 8th floor of the West Ward)
*Conditions and fees are current as of March 1, 2014.
*Please note that we may not be always able to accommodate your request due to room availability.
*The fees for a special room will be charged for the day of admission and the day of discharge as well. You will be charged for two days, if you stay over midnight.
Accommodations in the Vicinity
Ronald McDonald House Osaka-suita

This guesthouse provides lodging for NCVC patients under 18 years of age and their accompanying relatives. Patients staying at this facility must be accompanied by a caregiver. For more details, contact the House.