Relocation
Relocation to the former Suita Marshalling Yard site near the Shin-Osaka Station is slated for fiscal year 2019.
The Hospital and Research Institute will be integrated in one building for further improvement.
Leading the world in the development of cutting-edge medical care and technology through open innovation
Today, advancing partnerships with industry and academia is the key to developing new pharmaceutical products and medical devices. At the new NCVC, we will further advance translational research through the leadership of the RDIC, creating a new structure that allows participation of the research divisions of private companies and universities alike.
Forming a global biomedical innovation cluster
We will form a biomedical innovation cluster centered around the new NCVC, where we build up comprehensive partnership with companies and other research institutions. While providing advanced medical care, our goal is also to conduct solution-oriented research and commercialize the fruits of research to bring together related industries to Suita. Through this process, we will be able to form a biomedical innovation cluster.
Outline of the new NCVC
The latest plans call for a 50% increase in the total floor area; the new space will be approximately 115,000 m2. Access to the Center will improve considerably. The Center will be directly connected to the Kishibe Station, close to the Shin-Osaka Station, on the JR Tokaido Line, and it will take no more than 5 minutes for an ambulance to arrive at the new NCVC directly from the Suita Service Area via the Meishin Expressway. The Suita Municipal Hospital will also be relocated to a site adjacent to the new NCVC. The amenities available to patients and staff will be improved by the construction of accommodations and commercial facilities between the municipal hospital and the new NCVC.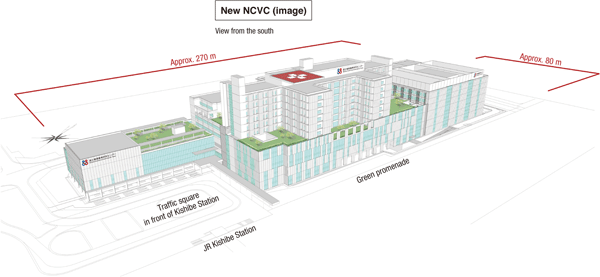 New Location
Block No. 5 (approx. 31,000 m2)
Land Rezoning Project for the former Suita Marshalling Yard site,
Northern Osaka Urban Development Project
Outline of the New Building (provisional)
Number of hospital beds: 550
Number of outpatients: 700 per day (estimate)