Current Projects
New projects at the NCVC
Taking on challenges to lead medical care in the next 10 or even 20 years, capitalizing on our long-standing intellectual assets
Karushio (A tasty low-salt diet)
Various initiatives for promoting a low-salt diet to decrease the daily salt intake of Japanese individuals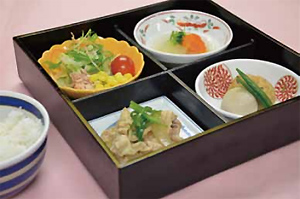 The main goal of the NCVC is to eradicate cerebral and cardiovascular diseases in Japan and realize a society where each and every person can lead a healthy life. A vital step to achieving this goal involves the diet. Globally speaking, the Japanese among the heaviest salt-takers, with an average daily intake of more than 10 grams. In addition, 40% of adults and two-thirds of elderly individuals in Japan are diagnosed with hypertension. In 2005, the NCVC Hospital started serving inpatients low-salt meals with approximately 2 grams of salt per serving and below 6 grams per day. While low-salt dishes are generally considered tasteless, our low-salt meals that bring out the good taste of the ingredients are receiving a positive reputation as tasty and delicious.
In order for many more people to enjoy tasty low-salt dishes on a daily basis, we have been promoting a low-salt diet through various initiatives. For example, we published a low-salt cookbook in December 2012 and are providing cooking classes for local residents. We are also working with private companies to distribute low-salt recipes and sell low-salt lunch boxes (obento). In addition, in 2013 we started the NCVC S-1g Grand Prix - Local Karushio (Low-salt) Specialty Recipe Project to create low-salt versions of recipes for local specialties across Japan, which has so far been very successful.
Early exploratory clinical trial center development initiatives
Building models of medical device development for the future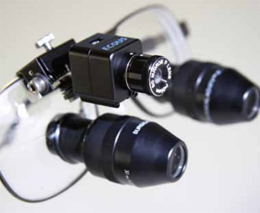 The NCVC was selected as one of the five facilities in Japan for the Early and Exploratory Clinical Trial Center Development Initiative, which was launched in fiscal year 2012 as an initiative of the Ministry of Health, Labour and Welfare, for the purpose of creating innovative pharmaceutical products and medical devices in Japan. Among the five facilities, we are the only one that is involved in the development of medical devices. Since our selection, we have been fostering necessary capabilities and improving our facilities so that we can perform first-in-human clinical trials led by physicians, not private companies. In the medical device development sector, concerns over risks on safety, profitability, and regulations have been limiting the entry of domestic companies into the market, resulting in continuous dependency on imported devices. The NCVC aims to create model systems for facilitating medical device development, successively bringing promising ideas into practical application and commercialization.